If you are adopting a rabbit you will need to have your rabbit enclosure setup prior to completing the rescues application form as they will ask for pictures of the enclosure during the application process. To set up a good rabbit enclosure it can be costly initially but as a rabbit can live for 10 years it is worth it to invest in a good set up in the beginning.  
What Is The Best Hutch For A Rabbit
It is not OK to keep a rabbit in a hutch. They are too small. Rabbits are best kept in pairs and two rabbits need a minimum space of 3m x 2m by 1m high. The sheltered area should be a minimum of 1.8m x 0.6m x 0.6m high. If you chose to have a hutch with a run then the rabbit should never be locked into the hutch. They need access to a secure predator proof run at all times. They are crepuscular, meaning that they are most active at dusk and dawn.
Even though the rabbit hutches sold at pet shops are not suitable housing for rabbits to be solely kept in, they can work as part of a larger set up and be connected with pipes to other runs and housing. But overall they are not a great investment as they don't hold up well in Ireland's climate. You will want a draught and damp free house for your rabbit which cannot be guaranteed from the hutches sold at any pet shops. 
How to choose suitable housing for a rabbit
Picking the correct housing is the most important part for the health and welfare of your rabbit. You need to take into account all seasons. It should be cool in summer and warm in winter. It should not allow dampness. You should also consider the ease of cleaning. Rabbits will use a litter tray but this does need to be cleaned very regularly. If the rabbits have a run on the grass they will mainly use this in good weather. But in winter time they will use the indoor litter tray more often. Having a rabbit enclosure that you can step into to clean is a big help in the winter.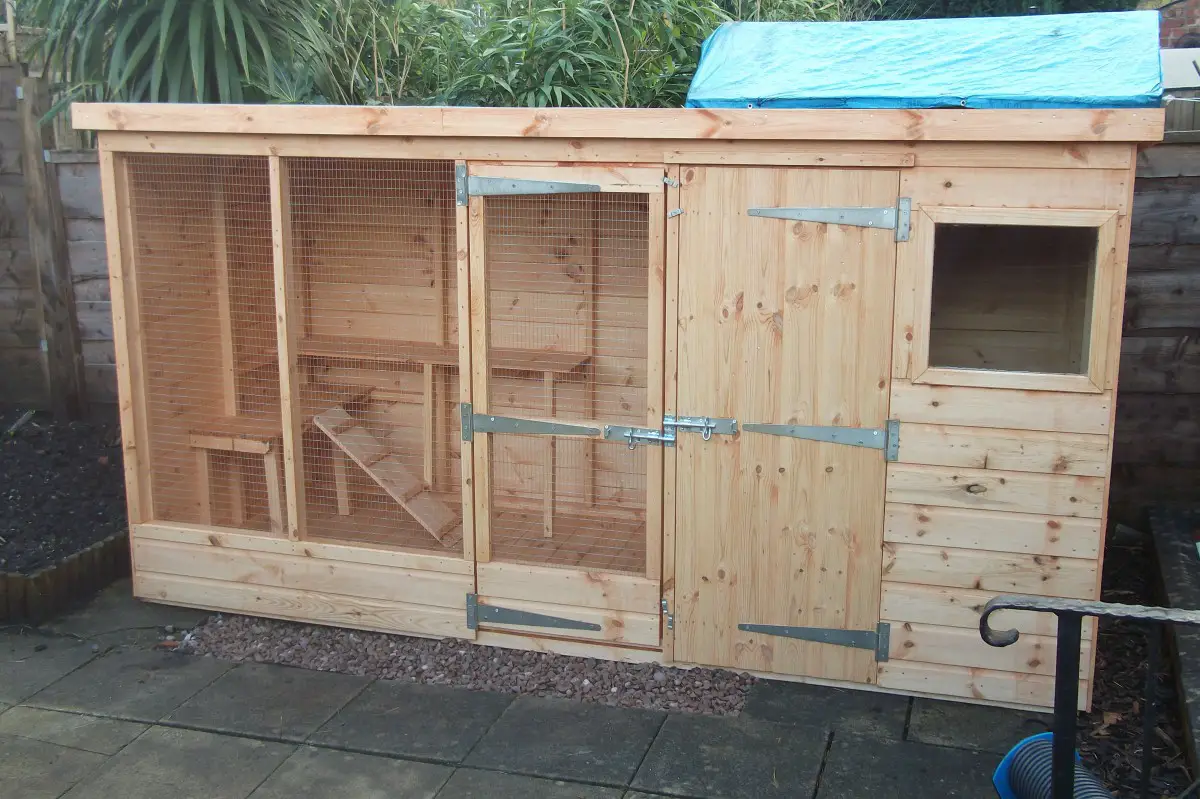 Suitable options to buy would be a shed or a large dog kennel with an attached run. We currently use a caravan for our rabbits but we have to take extra care during the summer months by keeping windows open and extra shades. Ideally something with a window where you can add a seated area as they are prey animals they do like to sit at to keep an eye on their surroundings. 
How to choose a rabbit run
As with the housing, the more space the better when it comes to rabbit runs. The most important thing is that they are predator proof. Your rabbit should have access to the run 24hrs a day so they can come out when they want. I have seen my rabbits outside at 5am during the winter. As with the hutches, in my experience, what they sell in the pet shops for rabbit runs are not suitable. They are too small and not sturdy enough for a rabbit to be left unsupervised in one. 
As rabbits can get through a lot of grass in one day we have found the most useful set up to be one large run, plus one or two smaller runs that give access to grass and can be moved daily. Our rabbits mainly go to the toilet in the smaller runs which means less cleaning up as we just move the run and they have access to a clean area again.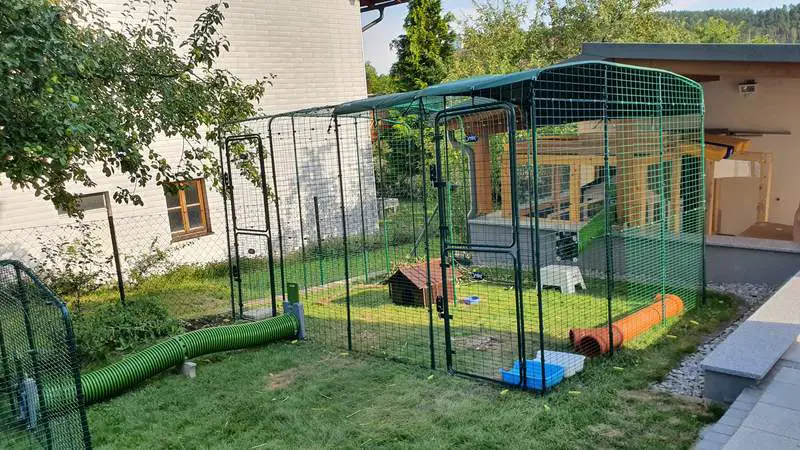 My current run setup is 3 different cages connected by pipes. We have a large run and small run from omlet.ie and another cage from runaround.co.uk. We use the pipes from runaround.co.uk. omlet.ie do sell pipes and connectors also but we haven't tried these yet. We also have the shelters from omlet. Omlet also sell a hutch which we do not recommend as it is too small. We did buy it to use as an outdoor shelter but they never used it. My cat now using it and so I do recommend it for cats.

The large run is too heavy to move daily but the other two we move every morning as they will get through a lot of grass a day. I like these two companies' products as they are not timber and will hopefully last longer. They were not cheap but we have had them a number of years with no issues so far. I did buy them prior to brexit so do check if there are extra fees if they are going to be shipped form the UK.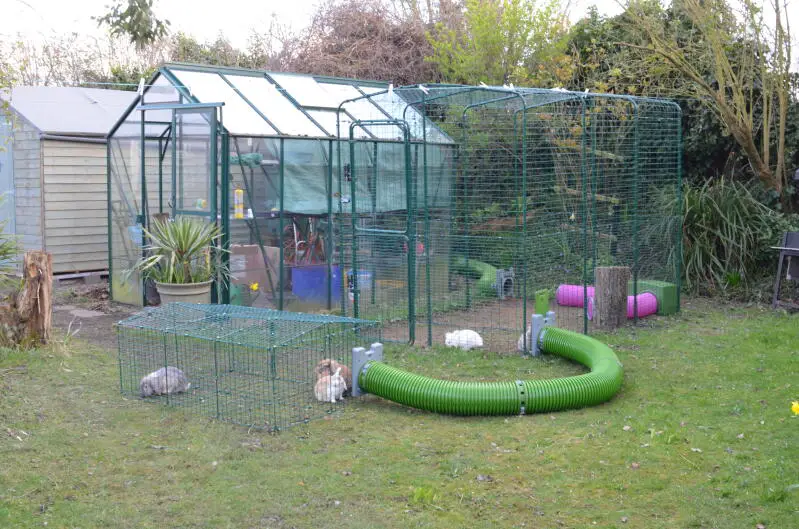 Another option would be an avery type of run. These can be made with predator proof wire and a roof or some sides. I do not know of any specific company that offers this in Ireland but if you contact a local carpenter or if you may have someone in your family who can help construct one. When looking for options online it is usually best to avoid searching 'rabbit run' as these will be too small. Search 'large pet enclosure', 'Averies' or 'Cat run' to find suitable options. 
Can rabbits stay outside in the winter?
Provided that they have a dry warm enclosure then rabbits can live outdoors in the winter. Don't wait until winter to winter proof the enclosure. Ensure the housing is insulated and has decent ventilation. Straw is the best bedding for the winter, but hay will still need to be provided for the rabbits to eat daily. 
Keeping your rabbit cool in the summer
Most people worry about their rabbits in the winter but very hot weather can be worse for rabbits than cold. When planning your housing ensure you have a way to cool down the shed or kennel you are keeping your rabbits in. Adding a predator proof wire panel for the door will allow you to leave it open to allow air in on the hottest days. Also adding plenty of shading with tarps on the windows and the runs. We use waterproof covers from omlet.ie on our large rabbit run. These are mainly used to deal with the wind and rain we get a lot of in the west of Ireland but they work for shade too.

If you are looking to adopt a rabbit and have any further question on how to set up the best enclosure then feel free to get in touch. We would be happy to offer any advice we can to new rabbit owners. This email address is being protected from spambots. You need JavaScript enabled to view it.